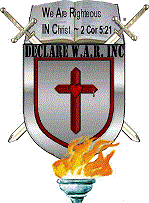 Welcome To Declare W.A.R In C!
The time has come to make a declaration,
from coast to coast and to every nation.
"WE ARE RIGHTEOUS IN CHRIST"
this is our proclamation.  It's all about HIM, and what HE has done.
HE'S GOD'S great gift, HIS only begotten SON.  That is why we're here to say,
WE DECLARE W.A.R.
each and everyday!!
~Leilani Pasos